Voting is an excellent way for residents in Broadway to make their voices heard and register their opinions on how they feel government should operate. Town of Broadway residents have the opportunity to vote in local, county, state and general elections. Below you'll find additional helpful information regarding registering to vote, voting districts and polling places. If you have any questions regarding voting procedures in the Town of Broadway please contact the town office.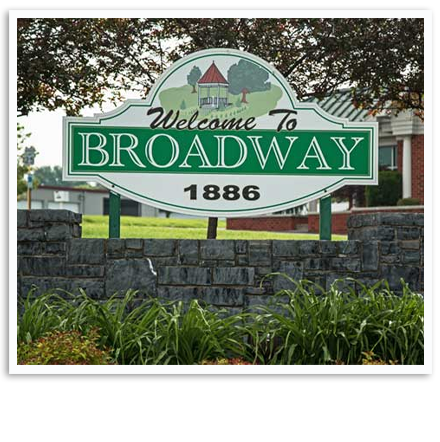 Registering to Vote
Town residents can register to vote using of of three methods:
By Mail: Applications can be obtained by calling the Registrar's Office at (540) 564-3055.
In Person: At the Registrar's office (contact info and directions below), DMV locations, Valley Mall (Harrisonburg), or Social Services agencies.
Online: The easiest way to register is by visiting the Virginia Department of Elections website, and completing the application online.
Registration Deadlines
Voter registration closes at 5pm:
Twenty-nine (29) days prior to a primary or general election.
Seven (7) days prior to a special election called by the Governor.
Fourteen (14) days prior to any other special election.

Register to Vote!
By visiting the Virginia Department of Elections website you can quickly and easily register to vote. If you are already registered to vote you can create an account online to access your Virginia voter record, update registration, apply to vote absentee, and view your voter-related information. Click below to start your online application.
VA GOVERNOR, SENATE & HOUSE

Mark Warner – US Senator

First Elected: 2009
Current Term Expires: 2027

Ben Cline – US Congressman

First Elected: 2019
Current Term Expires: 2023

Tim Cain – US Senator
First Elected: 2013
Current Term Expires: 2025
Polling Place: The polling place is the Broadway Fire Department open from 6:00 AM to 7:00 PM on election days.
Voting Districts: The Town of Broadway is located in the following voting districts:
Virginia Senate – 26th district
Virginia House – 26th district
U.S. Congress – 6th district
VA GOVERNOR, SENATE & HOUSE

Glenn Younkin – Governor

First Elected: 2022
Current Term Expires: 2026

Tony Wilt – VA House Rep

First Elected: 2010
Current Term Expires: 2023

Mark Obenshain – VA Senator
First Elected: 2004
Current Term Expires: 2024
NAME
Lisa Gooden, Director of Elections
Mailing Address
20 E. Gay St.
Harrisonburg, VA 22802
Phone
(540) 564-3055
Hours Of Operation
Monday – Friday, 8:00 AM – 5:00 PM