The Town of Broadway Community Swimming Pool is located at the Broadway Community Park, located right off of Route 42 at the end of Turner Avenue. The town pool is a great place for family and friends to spend a few hours or all day during the hot summer months. Season passes are available for children 5 and over. The pool also includes a concession area full of yummy snacks and treats, which makes it a great location for your next party or special event. We are home to the Broadway Sharks Swim Team and also have a private instructor offering water aerobic classes. Follow us on Facebook – Broadway Community Pool – to stay updated on news and events.
Remaining Pool 2023 Season Hours
Friday, August 25 – CLOSED
Saturday, August 26 – 11AM – 7PM
Sunday, August 27 – 1PM – 7PM
Monday, August 28 – Friday, September 1 – 3:30PM – 7PM
Saturday, September 2 – 11AM – 7PM
Sunday, September 3 – 1PM – 7PM
Monday, September 4 – 11AM – 5:30PM
**LAST DAY IS MONDAY, SEPTEMBER 4*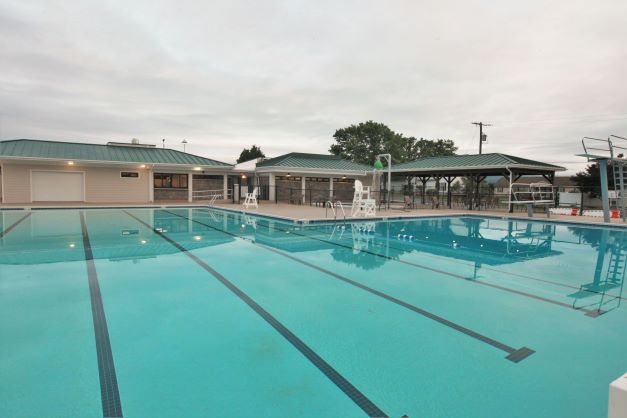 2023 RATES & SEASON PASSES
Daily Admission Rates

Cost

After 5PM
Season Passes

Cost

Town Resident Family Pass / 4 People

Non-Broadway Town Family Pass / 4 People

Town Resident Kids 5 - 12

Non-Broadway Town Resident Kids 5 - 12

Town Resident Adults 13 & Older

Non-Broadway Town Adults 13 & Older
Interested in Season Passes?
If you and your family frequent the Broadway pool regularly you can save money by purchasing a season pass. To obtain a season pass download the membership application and return the signed copy with your payment.
Interested in Swim Lessons?
We have a private instructor offering swim lessons at the pool. The 2023 fee is $90 for 8 lessons. Please call instructor Carla at 820-3223 or email her at mcregginello@reagan.com for more information and to sign up. 
POOL PARTIES - 2 HOUR MAX
INCLEMENT WEATHER POLICY
Inclement weather may result in cancellation of parties and a refund of deposit. This decision will be at the discretion of pool management.
All reserving parties will be required to sign an agreement with the pool management at the time of reservation and pay a $50.00 deposit. The agreement is binding and individuals reserving the pool for a party will be required to pay the balance of the guest agreement on the date of the party. (Example: If the agreement states party attendance will be 51-75 guests and only 49 guests attend, reserving party will be responsible to pay the number of guests noted at the time of signing the reservation agreement – $250.00 less the $50.00 deposit.)
Any action compromising safety to facility users is prohibited.
A parent or responsible adult must accompany all children age 13 and under. Parents are expected to be in reasonable proximity to children at all times.
Parent or responsible adult must supervise children using wading pool.
Persons are not permitted to catch children using the diving board.
No running, rough play or excessive noise in pool area, showers or dressing rooms.
One person on the diving board at a time; wait for diving area to clear before diving.
No diving in water under 3′.
No back dives from deck.
No animals allowed in the fenced area (exception of visual aid dogs).
No chairs permitted in the walkway.
No smoking anywhere inside fenced area.
No spitting.
No skateboards, scooters or bicycles are permitted beyond the pool entry gate.
No athletic equipment should be thrown, bounced or rolled beyond the pool entry gate.
Address
102 Sunset Dr.
Broadway, VA 22815
Phone
(540) 896-9771